Sans prêcher dans la
confusion
, si le jazz est une
fusion
trempée dans le
blues
, les cloisons musicales et commerciales entre les deux genres ne sont pas aussi étanches que les bacs des disquaires.
Il faut des instruments pour accompagner les vocalistes. S'ils se réduisent à une guitare, on est loin de ce qu'on catégorise en "jazz"...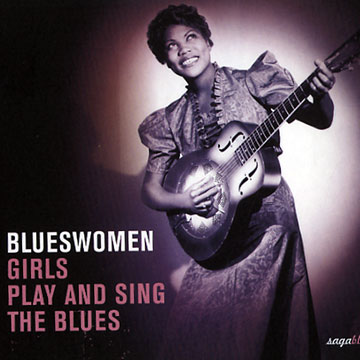 ... mais dès qu'il y a un piano, une batterie, voire des anches ou des cuivres, les frontières explosent.
Pour s'en convaincre, les enregistrements de Bessie Smith avec Louis Armstrong, Coleman Hawkins, Fletcher Henderson, James P. Johnson, Joe Smith, Charlie Green... Mais Bessie Smith ne joue pas d'un instrument. Les mêmes chanteurs et chanteuses de blues se retrouvent accompagnés par des combos ou des Big Bands, dans un contexte de jazz. Jimmy Rushing avec Count Basie, modèle du Blues Shouter, ne chante pas que des blues, et il enregistrera avec... Dave Brubeck.
Ce topic ne vise pas l'exhaustivité. Elle n'est pas à ma portée, libre à d'autres de compléter *. Je me promène dans cette histoire, et j'y rencontre des individualités, pas toujours des célébrités, qui m'intéressent dans ce cadre.
* Le sujet a été abordé en 2007,
et ces dames elles sont où ?
>
http://jazzitude.forumactif.com/t2350-et-ces-dames-elles-sont-ou
On trouve assez facilement des anthologies
Une des plus célèbres est
Memphis Minnie
dont certains enregistrements préfigurent le Chicago Blues. Mais elle n'apparaît pas dans un contexte de jazz.
Sister Rosetta Tharpe
avec Sammy Price
We Bea Booze
est plutôt classée comme chanteuse et guitariste de blues.
Elle enregistre en 1942 avec
Sammy Price
, chanteur et pianiste de blues et boogie-woogie, et leader d'orchestres de jazz.
1942
Mr Freddie Blues and Gulf Coast Blues
>
http://www.youtube.com/watch?v=GSKRS8JoGpc
Son tube est une reprise d'un thème de Ma Rainey, que tout le monde connaît, pour les versions de Ray Charles, des Animals, Bruce Sprinsteen, Eric Burdon, Eddie Mitchell... et dans le jazz Ella ou Jimmy Smith.
See See Rider Blues
>
http://www.youtube.com/watch?v=JBC2C-nB738
Bea Booze
se produit aussi comme chanteuse de Big Band, avec Andy Kirk et Les Brown, deux saxophonistes chefs d'orchestres.
[...]
Edith North Johnson
est pianiste et chanteuse (de blues).
Can't Make Another Day
>
http://bmansblueslibrary.blogspot.fr/2012/02/can-make-another-day-edith-north.html
Elle chantera aussi avec Count Basie
Des chanteuses qui s'accompagnent elles-mêmes au piano, il y eut quelques-unes avant Nina Simone, Shirley Horn, Diana Krall...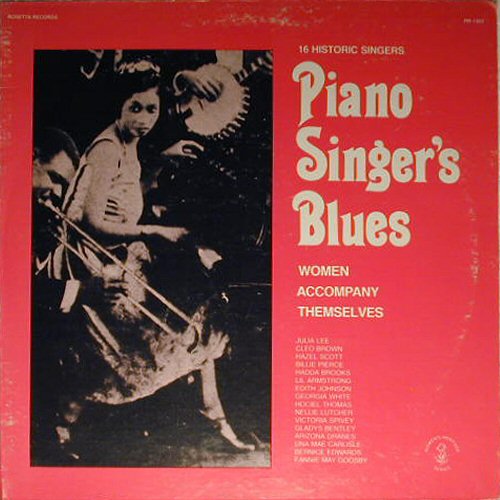 Cette compilation regroupe Georgia White, Gladys Bentley, Edith Johnson, Billie Pierce, Arizona Dranes, Fannie May Goosby, Celo Brown, Hociel Thomas, Julia Lee, Bernice Edwards, Hazel Scott, Nellie Lutcher, Una Mae Carlisle, Victoria Spivey, Hadda Brooks et bien sûr Lil Armstrong (comme on dirait, à Satchmo ce qu'est Alice à Trane)... Pour les orchestres, voir >
http://www.discogs.com/Various-Piano-Singers-Blues-Women-Accompany-Themselves/release/3312196
[j'y retournerai piocher quelques trucs à l'occasion]. Excusez du peu de femmes pianistes de jazz ou de blues...

Les rôles sont parfois inversés puisque la chanteuse de blues et gospel
Sippie Wallace
accompagnera au piano Little Brother Montgomery et Roosevelt Sikes. Elle écrit
Caldonia
, repris par Louis Jordan et BB King.
Bedroom Blues
>
http://www.youtube.com/watch?v=eP8LaN240xM
Up The Country Blues
>
http://www.youtube.com/watch?v=FG4BJAGNyRI

Le style blues & boogie est increvable...
Julia Lee
, Kansas City's First Lady Of The Blues !
Don't come too soon
>
http://www.youtube.com/watch?v=_08OKSMdh_A
1946
Snatch and Grab it
>
http://www.youtube.com/watch?v=dxd0Q2WQnlk
C'est pas du jazz ?
Samuel "Baby" Lovett & Julia Lee
1947
, un contexte plus jazz avec Geechie Smith & Dave Cavanaugh tp, Vic Dickenson tb, Benny Carter as, Jack Marshall g, Red Callender b, Sam Lovett dms. Recorded November 1947.
Julia Lee & Her Boy Friends -
The Spinach Song
>
http://www.youtube.com/watch?v=Ax4tVzuN52U
Solo Dickenson tb 1:10, Benny Carter as 1:58
Les mêmes jouent indifféremment blues et jazz
Lotus Blossom
>
http://www.youtube.com/watch?v=8qK5NefYVb8
Beau solo de Benny Carter as
1952
Kansas City Boogie
>
http://www.youtube.com/watch?v=m9je0blMb7c
King Size Papa
>
http://www.youtube.com/watch?v=Xn4fZfHrico

Kathie Webster
, pianiste et chanteuse de blues et boogie.
Women in blues
>
http://www.youtube.com/watch?v=rdobY7wBXT4
Conseillé !
I'm Bad
>
http://www.youtube.com/watch?v=HRLQTWZgfYA
Plus rocky mais déconseillé