le Jeu 26 Sep 2013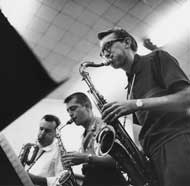 Jimmy Giuffre, Bud Shank, Bob Cooper.
Photo by William Claxton.

Bud Shank (souvenir de chez Stan Kenton) : « I remember Jimmy had straightened the neck of his tenor so it resembled the neck of an alto. He did that to get a different sound. Jimmy was always exploring and always thinking. He was so deeply involved in whatever he was doing. I remember one night Jimmy came over to The Lighthouse in Hermosa Beach with a pipe cleaner tied around the neck of his tenor. One of us asked him why it was there. He said, "To remind me to take a deep breath." That was Jimmy. He was so deeply into what he was doing, he needed things to remind him to come up for air.»

Teddy Charles

: «

Jimmy was a fabulous player and writer. I first played with him at The Lighthouse in May 1953, with Bob Cooper, Russ Freeman, Howard Rumsey and Shelly Manne. Jimmy also played clarinet, tenor and baritone on my Collaboration: West album for Prestige in August 1953.

Jimmy was very different than everyone else. He was a Texas gentleman, and a little shy, which was unusual for a jazz musician back them. When I put my Tentet together in late 1955, I wanted to showcase the many different modal arrangers emerging then. Jimmy immediately came to mind. When I asked him to write a chart, I was in New York and he was in L.A. He wrote The Quiet Time and mailed it to me. I thought he was going to bring it to New York. So I called him and said, 'Jimmy, how are we supposed to play this without you here to explain how you want it done?' Jimmy said, 'Just play it down, Teddy. It should be fine.'

So I put The Quiet Time up on the stands and we played it down. Man, if he wasn't spot-on. I was blown away. The chart was absolutely perfect. No fine-tuning needed. Jimmy really was a master writer.

»
Charlie Parker, Harry Babasin, Chet Baker,
Helen Carr, Donn Trenner, Tiffany Club LA,
1952, photo William Claxton
Von Babasin (fils du contrebassiste
Harry Babasin
) : «
Giuffre is equally adept on alto as tenor sax, and his inventive, [Eddie] Sauter-inspired arrangements are so gone that Red Norvo, preparing to make jazz discs for Capitol last month, rushed out and asked Giuffre to handle the arranging for the session.
»
Lennie Niehaus
: «
The whole Four Brothers sound was actually started by Gene Roland in a rehearsal band he had out in L.A. in 1946 that included Stan Getz, Zoot Sims, Jimmy Giuffre and Herbie Steward. It was before Jimmy Giuffre wrote Four Brothers for Woody Herman in 1947. My unison reed section writing also was early comparatively. Whenever I'd arrange, I'd always add a sax soli
.»
1956 Bill Perkins, Giuffre, Stu Williamson
Buddy Clarke, Shelly Manne
le Sam 28 Sep 2013

Scintilla in four movements, Jack Sheldon tp, Ralph Pena b, Artie Anton dms
Images inédites (ici)
Joe McPhee André Jaume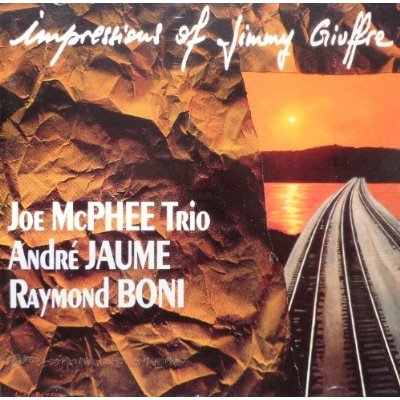 Joe McPhee Trio -
Zigliara I & II
>
http://www.youtube.com/watch?v=fP8d9wH4KlY
from Impressions Giuffre
Présentation >
http://music.douban.com/subject/3723346/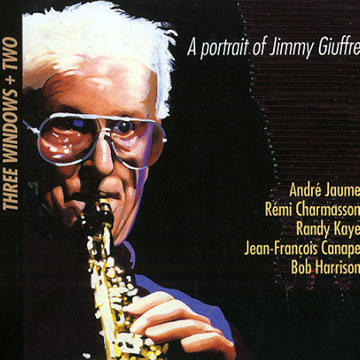 Une tournée en 2012, le saxophoniste
Chet Doxas
rend hommage à Jimmy Giuffre avec
Steve Swallow
,
Dave Douglas
,
Jim Doxas
dms >
https://notallthatjazz.wordpress.com/2012/08/01/chet-doxas-rend-homme-a-jimmy-giuffre-avec-steve-swallow-et-dave-douglas-dans-le-projet-riverside/
Un clarinettiste anonyme, mais digne, et couvert
Fin des années 90 Now I will also play, "
Jimmy Giuffre, A Jazz Portrait
" a half hour radio
documentary I Produced about 10 years ago. It's Jimmy telling his own story,
in his own voice, complemented by the music he heard and made throughout his
long career. Steve Schwartz
Jimmy Giuffre - The Quiet Man
>
http://jazzprofiles.blogspot.fr/2008/04/jimmy-giuffre-quiet-man.html
Jimmy Giuffre se raconte
28mn >
http://www.npr.org/player/v2/mediaPlayer.html?action=1&t=1&islist=false&id=90004452&m=89998065
Several of today's writers have dropped sounded beat for contrast, but never for an entire work. I've written works completely lacking sounded beat, but the difference between this music and all previous work is the use of drums. My previous attempts at this approach, while achieving some of the clarity I sought, were always vaguely unsatisfactory to me until I realized the trouble: the drums, by their nature, cannot carry a simultaneous or overlapping line; when the drums is struck any other note is obliterated, and attention is torn away from any other line. In this music, the drum lines are integrated but isolated." "Jimmy Giuffre: Blues in Counterpoint"
Saturday Review, July 13,1957

"The result is a certain feeling of suspension, of dissonance, if it's handled right. In slow-motion counterpoint, for example, if one melody is an eight-note pattern that is changing notes often, the other melody changes notes much less often, perhaps every four bars. And for rhythmic interest, the slow-changing line can be broken up by repeated notes and rests. A third line and possibly a fourth could be proceeding at other varying rates of speed simultaneously." 1957 "cover" of Meredith Wilson's score for The Music Man
Jimmy Giuffre
Coming In from The Cool
by Graham Lock
From Chasing the Vibration: Meetings with Creative Musicians (Exeter: Stride Publications, 1994)
>
http://dev.jazzstudiesonline.org/files/Jimmy%20Giuffre.pdf
Teaching Improvisation and the Pedagogical History of the Jimmy Giuffre 3
Peter Johnston, 2012 >
http://www.seethroughmusic.com/resources/Writing/PeterJohnstonJimmyGiuffre3Article.pdf
Jim Hall
à propos de Giuffre >
http://www.jazzwax.com/2010/03/interview-jim-hall-part-2.html
JW: Your next group was the Jimmy Giuffre Trio, which also had a different chamber jazz sound.
Jim Hall : Jimmy had gotten into folk music at around this time. He also had a background in classical composition and had studied with Wesley La Violette. Jimmy was a lovely person. He was a curious guy, very interested in people and very positive. He helped me enormously with my phrasing. He'd write a line and I'd work to make my playing blend better with Jimmy's sound. That group and approach helped my playing a great deal.
JW: How so, specifically?
Jim Hall : Jimmy worked with me to get my guitar to sound more fluid, like a wind instrument. To do this, he encouraged me to ease off on the picking with my right hand and to use my left hand more on the neck for slurring, so notes would blend with what he was doing on the clarinet and saxophones.