1948 Buddy Rich
Daily Double
> Solo ténor 1:35
http://www.youtube.com/watch?v=JhbyNwzDqQA
Plus tard Buddy Rich -
Four Rich Brothers
>
http://www.youtube.com/watch?v=bWA0oAbix1g
Jimmy Giuffre -
I'll Follow You
(1947) >
http://www.dailymotion.com/video/xuarzq_jimmy-giuffre-i-ll-follow-you-1947_music
1951 Un auto-détournement
Art Pepper & Jimmy Giuffre
-
Four Mothers
>
http://www.youtube.com/watch?v=pwJfNmrYSvw
Four Brothers :
Maiko jazz violin live!
>
http://www.youtube.com/watch?v=JZj-5Vnyalo
Un tantinet scolaire et manquant de respiration, le violon ne se jouant pas avec la bouche, ni le piano, audiblement... T'as beau faire, le souci de remplir étouffe, et même le contrebassiste.. Improviser sur
Four Brothers
ou n'importe quoi d'autre, quelle importance ? Si même la mélodie, bien que secondaire dans ce morceau, s'efface sur le sable oubliant les feuilles arrangées.
Avant que les frères ne se retrouvent en 1957, sort en 1956 chez Prestige un "Ténor Conclave" avec
Hank Mobley, Al Cohn, Zoot Sims, et John Coltrane
et la rythmique du quartet de Coltrane d'alors : Red Garland, piano; Paul Chambers, bass; Art Taylor, drums. Les clivages auraient donc sauté ? Ont-ils jamais existé entre saxophonistes ? Oui si l'on considère la réalisation mélodico-harmonique et le phrasé. Pour le son, c'est plus difficile, voire assez subjectif, et déformé par le contexte esthétique. Si l'on peut dire de Mobley qu'il tient de Getz, et de Coltrane, celui-ci, de qui ? Hé bien
the Trane
revendiquait l'influence de
the Sound
, Stan Getz, ce qui s'entend d'ailleurs fort bien dans les ballades, par exemple, une certaine brillance du ténor, un timbre très chargé en harmoniques, contrairement au son plus feutré de certains héritiers de Lester Young, et à la différence de leur maître. Le Président sonnait dans certains enregistrements comme Coltrane. À cette époque, mis à part les gros sons des 'hurleurs' ou d'un Rollins, les voix du ténor de jazz sont impénétrables, Dexter Gordon, où le situer, ailleurs que chez lui, chez lui étant ailleurs,
Out of this World
... Le plus
courant
, c'est de s'y confondre, n'est-il pas ?
Vidéos
Four Brother
est à Giuffre ce qu'
Israel
est à Carisi, des standards qui leur échappent, pour le meilleur, parfois le pire...
Anita O'Day
Avec Les Brown >
http://www.youtube.com/watch?v=NN3bPP42td0
TV Japon 1963 >
http://www.youtube.com/watch?v=C6Sk0LO1cRQ
Un Big Band japonais, ça me manquait

Une excellente version en big band arrangé par
Russ Garcia
en 1958 (LP
Anita sings the Winners
) >
http://www.youtube.com/watch?v=hkTG6P2BEiQ
1958
Dans un carton de soldes à la Fnac, Import japonais à 10€ (celui-ci est un 24bit à 1000 Yen, soit 8 ou 9 € au Japon, au cours actuel). L'album est sorti en 1958, réédité en 2007.
Ce disque n'est pas à mon avis un essentiel de Giuffre, mais il est intéressant. Il y joue les
quatre ténor en re-recording
, accompagné par
Jim Hall à la guitar et Bob Brookmeyer au piano ou au trombone
. Quelques morceaux sans accompagnement. L'arrangement de
Four Brothers
semble le même que l'original de 1947 avec Woody Herman. Les autres morceaux recourent beaucoup au contrepoint (Giuffre avait achevé ses études sur la question), et cela sonne parfois comme les quatuors ou quartets de saxophones qu'on connaît dans le classique ou dans le jazz.
Memphis in June
>
http://www.youtube.com/watch?v=c5y7AgkD0RI
4 ténors overdubed guitar piano
I gotta right to sing the blues
>
http://mixstep.com/track/139gzg/
Clarinette guitar piano + section 4 ténors, puis solo ténor + Brookmeyer piano...
On peut considérer qu'il s'agit d'un intermédiaire entre ses arrangements type "West-Coast" comme
Four Brothers
, et le trio avec Hall et Brookmeyer.
Sample >
http://www.allmusic.com/album/portrait-of-the-artist-the-four-brothers-sound-mw0000242692
Giuffre revient aux Brothers, et réciproquement, dans toutes les dimensions, le sextet, le trio, un remake...
1957 en sextet Shorty Rogers (flugel horn), Jack Sheldon (trumpet), Bud Shank (alto sax), Jimmy Giuffre (tenor sax), Ralph Pena (bass), Shelly Manne (drums) >
http://www.youtube.com/watch?v=NedBOG3yYvM
Là, on peut parler de West Coast sans complexe
1959 En trio Live à Rome, Giuffre, Jim Hall, Ralph Pena
Four Brothers
>
http://www.youtube.com/watch?v=LNKRTJBcUic
1957
Here We Go Again
>
http://www.youtube.com/watch?v=82FX9F3-5_c
Avec tambour mais sans trompette Zoot Sims, Al Cohn, Herbie Stewart et Serge Chaloff
Pour ne rien arranger, si j'ose dire, Mulligan écrira un
Five Brother
, pour le jouer à quatre...
Avec Chet Baker, 1953 >
http://www.dailymotion.com/video/xtnqme_chet-baker-gerry-mulligan-five-brothers-1953_music
Avec Bob Brookmeyer (valve trombone), Gerry Mulligan (baritone sax), Bill Crow (bass), Gus Johnson (drums), Paris 1962 >
http://www.youtube.com/watch?v=jM9L1qUCYLI
Les frères feront des petits, mais les enfants tiennent plus ou moins des parents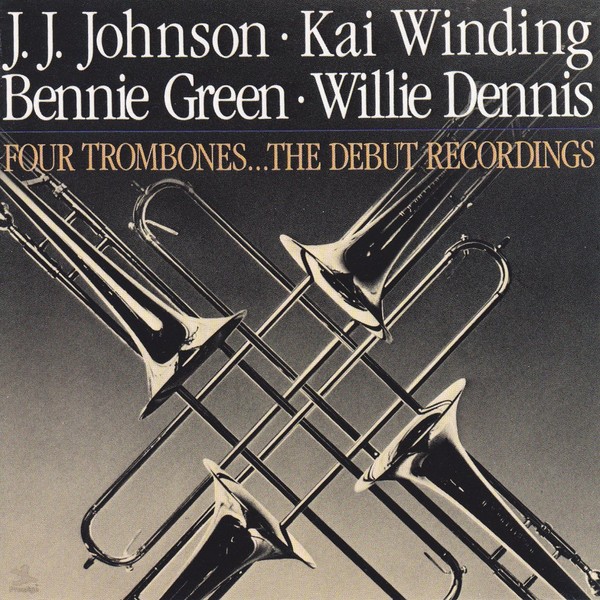 1953
J.J. Johnson, Kai Winding, Willie Dennis, Bennie Green (trombone), John Lewis (piano), Charles Mingus (bass), Art Taylor
Kai's Day
>
http://www.youtube.com/watch?v=O7iFS5J5v1I
Four Brothers... and Sisters,
Manhatan Transfer
t Live Tokyo 1986
Ce sont les paroles de Jon Hendricks pour le trio
Lambert Hendrick & Ross
, en 1955
>
http://www.piter.fm/artist/dave_lambert,_jon_hendricks_amp;_annie_ross/song_0514268
Take a seat and cool it 'cause unless you overrule it
We are ready to show you some blowin'
A rompin' and a stompin' is a lot of fun
Four brothers who are blowin' our horns

So settle down an' listen 'cause you don't know what you're missin'
And we're ready to give you a showin'
A movin' it 'n groovin' it has just begun
Four brothers who are blowin' our horns

We got a little message that you're gonna enjoy
Ain't no sense in dodgin' the facts
So settle in your easy chair an' if you ever had a care - forget it,
It's time to relax

We might as well admit it, we're the best that ever did it
But in case you ain't too sure a knowin'
We're gonna let you listen to us one by one
Four brothers who are blowin' our horns

How'd ya do, I'm talkin' about you
It's very nice to know that you have really taken time to listen to me blow
'Cause as sure as I'm born, I'm blowin' my horn
It's me baby, I'm blowin', zootin' it up
And I hope you dig the sounds I'm makin' more'n any other
Now I must go for it's time for you to listen to my other brother

I think the chick's talkin' 'bout me so I'd better go 'n see
I'm hip that she knows a horn is very best to greet you
That's the reason I'm blowin' so snappily
I don't know what ya got, but it thrills me an' I hope to have a lot
'Cause it puts me in clover
So baby, if you would like to dig my other brother
You're gonna have to turn the record over

Hey hey hey
Who ya talkin' about, say who ya talkin' about
Did I hear you say you'd introduce your other brother
'Cause in case I heard you talkin' about three, that's me
Pleased to meet you, how'd you do, how are you, nothing new,
How is everything with you?
Whattya say I leave this jazz up to my brother --

Dig dig dig my Long Island sound
I hope you're puttin' it down
You got me in a mood that's so romantic
If you notice you can dig this silly old act
Because I'm actin' so distracted when I dig you
Pretty baby you will never know how much I really dig you
You have got me so excited that I goofed blowin' my horn

Ooh bop the news is gettin' around, we're really puttin' it down
We're glad of fact that you enjoy it and we wish we had the time to give you more
Thank you for the compliment
You told us we were better just as if we didn't know it
We're hip that we're the best, we're over all the rest
We're in the modern school, we always play it cool, we never play the fool
The honkers and the squeakers might be stealin' the show
But we don't go for that, so while we blow

Hi-ho, lackadaise, for it's a natural fact
I ain't no kin, but I would like to get in the act!

Well get outta here, get outta here, get outta here
Now fellas we appreciate him makin you mad,
But we must ask you to apologize
Because after all he's in our band

Four brothers, four brothers, four brothers
Although we sound like more
Four brothers, four brothers, four brothers
We're really only four

We like to blow but we don't know how time can fly and how our cares pass away
We wish the time would never go so we could take our time an' blow 'til judgement day

Four brothers, four brothers, four brothers
Now just one final word:

I'd like to know you and I hope I don't forget you
It's really a pleasure and I hope I don't look silly to you
I'm hopin' the story that I told did not upset you
Sorry now in conclusion were you hoping that you heard four

So just before we go we want you to know ---
We're glad you let us show you how we always end up with that jazz
(We don't call for back up on the road)
Oh - ohhh!!!!
Les vieux de la veille...
Four Brothers revisited
1987 : Al Cohn - Jimmy Giuffre - Med Flory - Bill Perkins