Kurt WEILL-Mike ZWERIN, John LEWIS, Dolphy, Raney... + Gil EVANS
Autour d'un "indispensable"...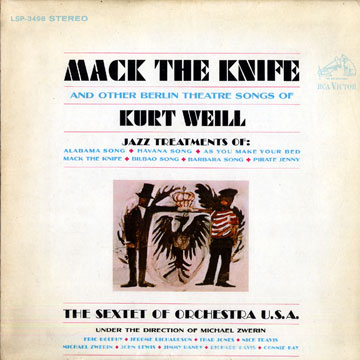 Si le nombre d'habits sous lesquels s'est paré un disque devait un critère de son intérêt musical, que dire sous l'avalanche ?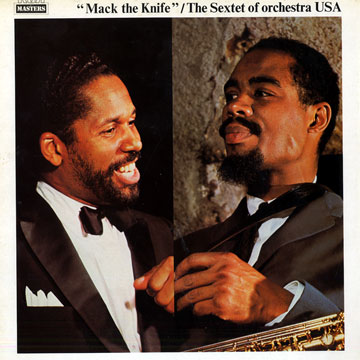 L'album est constitué en fait de deux sessions différentes en 1964, elles ont en commun le compositeur de l'Opéra de quat'sous,
Kurt Weill
, les arrangements du tromboniste
Mike Zwerin
, le contrebassiste
Richard Davis
(compagnon de Dolphy) et le batteur
Connie Kay
(du MJQ/John Lewis), et le fait qu'il y a deux sextettes.
Les versions CD ajoutent, aux sept qui constituent l'album original, soit des prises alternatives, soit quelques pièces, qui ne sont pas arrangées par Zwerin mais voient bien Lewis et Dolphy jouer ensemble, ce qui peut justifier les pochettes...
Cela donne donc à la base, deux orchestres différents. Pour être précis :
Eric Dolphy as & b cl
Nick Travis cornet
Mike Zwerin bass tp argt
John Lewis p
Richard Davis b
Connie Kay dms
Ils jouent trois thèmes,
Alabama Song, Havana Song, As you make your Bed
(on se couche), January 10, 1964 at A&R Studios
Thad Jones cornet
Jérôme Richardson as, fl
Mike Zwerin
Jimmy Raney guitar
John Lewis p
Richard Davis b
Connie Kay dms
Ils jouent quatre morceaux,
Mack the Knife, Bilbao Song, Barbara Song, Pirate Jenny
, June 1, 1965? at Webster Hall, New York City
Si l'on préfère un dessin...
C'est dire la possible déconvenue de ceux qui croyaient avoir en main un disque de John Lewis avec Eric Dolphy, disparu entre les deux séances...
*
J'ai évoqué des rééditions avec ajouts.

Il y a notamment celle-ci, avec les Alternate Take de Mack the Knife, Bilbao Song et Pirate Jenny, plus trois morceaux : The Stranger, Afternoon in Paris, Night Float, enregistrés à New-York en septembre 1960.

John Lewis et Eric Dolphy sont présents dans ces trois, Connie Kay était déjà à la batterie, mais à la basse un autre familier de Dolphy, George Duvivier.

En plus de Dolphy, ici également de la flûte, la section de anches comporte Benny Golson (ts), Jimmy Giuffre (baryton). Herb Pomeroy est à la trompette, Gunther Schuller au French Horn (cor d'harmonie), Jim Hall à la guitare.

Les arrangements de ce qui serait un nonet (...) sont dus respectivement à Arif Mardin, John Lewis, et Gary McFarland.

The Stranger (compo&argt Mardin) > http://www.youtube.com/watch?v=stewMeN8itA
Afternoon in Paris (argt John Lewis) > http://www.youtube.com/watch?v=G61iK-3GSnM
Night Float (argt Gary McFarland) > http://www.youtube.com/watch?v=D6IERWdnFzY Rien à voir donc avec Marty Ehrlich. Solo de Hall guitar 1:30
Quelques "Reviews"

À propos de Mike Zwerin, The International Herald Trombone, disparu en 2010 > http://news.jazzjournalists.org/2010/07/the-international-herald-trombone-a-tribute-to-mike-zwerin-1930-2010/

« Third Stream, Gunther Schuller's well-intentioned but commercially doomed idea of forcing contemporary classical (i.e. serial) composition music to cohabit with hard bop, produced but a handful of fine recordings, most notably the classic 1960 Atlantic "Jazz Abstractions" and this 1964 sextet outing under the stewardship of trombonist Michael Zwerin. The choice of Kurt Weill's sleek and elegant compositions was astute: the bittersweet harmonies of Weill (who ultimately emigrated to the USA from Germany) lend themselves particularly well to jazz soloing, and accordingly an outstanding rhythm section featuring the Modern Jazz Quartet's John Lewis (an enthusiastic advocate of Third Stream from its inception) and Connie Kay and bassist Richard Davis is on hand to support some splendid horn work from Thad Jones, Nick Travis, Jerome Richardson and most notably Eric Dolphy, whose wild bass clarinet leaps on "Alabama Song" are a pure joy to hear, and proof that the saxophonist's harmonic concept, while undeniably "out" for the standard-based harmonic repertoire of bop was most definitely "in" the wider scheme of musical thought that Third Stream aspired to. » Dan Warburton
Si vous avez aimé ce disque, vous ne manquerez pas d'apprécier cette fabuleuse compilation

J'y reviendrai...
Écouter cette version de
Bilbao Song
> http://www.youtube.com/watch?v=rRwYmIjS9i0
from "Out of the Cool" (1961) Recorded November 18 & 30, December 10 & 15, 1960 - Van Gelder Studio, Englewood Cliffs
Personnel :
Gil Evans -- piano
Johnny Coles -- trumpet
Phil Sunkel -- trumpet
Keg Johnson -- trombone
Jimmy Knepper -- trombone
Tony Studd -- bass trombone
Bill Barber -- tuba
Ray Beckenstein -- alto saxophone, flute, piccolo
Eddie Caine -- alto saxophone, flute, piccolo
Budd Johnson -- tenor saxophone, soprano saxophone
Bob Tricarico -- flute, piccolo, bassoon
Ray Crawford -- guitar
Ron Carter -- bass
Elvin Jones -- drums
Charli Persip -- drums
à lire aussi, de Kurt Weill à Gil Evans
> http://mrebks.blogspot.fr/2011/09/gil-evans-here-4a-weill.html
The Barbara Song
> http://www.youtube.com/watch?v=JudTbcdViu4
from "The Individualism of Gil Evans" (1964)
Personnel dans
Barbara Song
(à noter qu'il n'y a pas de trompette)
Frank Rehak (tb), Ray Alonge, Julius Watkins (fh), Bill Barber (tu), Al Block, Andy Fitzgerald, George Marge, Bob Tricarico (woodwinds), Wayne Shorter (ts), Bob Maxwell (harp), Gary Peacock (b), Elvin Jones (dm), Gil Evans (p, arr, cond). Recorded July 9, 1964 at Van Gelder's Recording Studio, EngleWood Cliffs,? N. J.